Wick Golf Club

A warm friendly welcome awaits you at Wick Golf Club, the oldest established golf club in the Highlands of Scotland. Visitors will find that one of the pleasures in playing golf here is that there is rarely a need to prearrange a tee time and there are no time limitations on your round. Simply turn up and enjoy your golf.
The course is a traditional 18 hole Links layout consisting 9 holes out and 9 back to the clubhouse. The Fairways are generous and fast running, with firm and true links greens. The course is playable all year round with rarely any winter tees or greens in operation so it's always a fair test of your game.
There are many spectacular views around the course with possibly the best saved for the 18th tee, which offers a stunning panorama of Sinclair Bays unspoiled white sands and four Historic Castles which overlook the sea.
Thurso Golf Club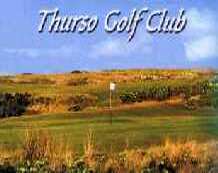 Thurso is an enjoyable parkland course at the tip of the Highlands with inspiring views of the Pentland Firth and Orkney Isles.
If you like playing in a strong wind then this 18 holer is right up your street. Most holes feature out-of-bounds and almost all have narrow fairways. And if that wasn't enough you must also overcome patches of gorse and heather - hence the rewards going to straight hitters. The thirteenth is a classic with rough to the right, heather to the left and a bunker guarding the green. Recent course improvements have made it a real favourite with visitors.
Lybster Golf Club

Golf has been playing in Lybster for over a hundred years. It is one of the (if not the) shortest 9 hole courses (3,858 yards, par 62, SSS 61) in Scotland it is very popular with a wide range of golfers of varying age groups and abilities. Our longest hole is only 318 yards and our shortest (although by no means the easiest) is only 90 yards. The entire course is laid out in only 15 acres of land. The benefit of this is that you are never miles away from the clubhouse / car park if you have had enough or if the weather becomes inclement.
View Lybster Golf Club Website
Brora Golf Club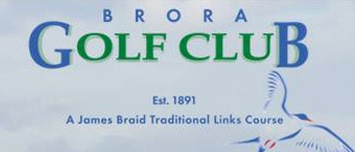 Gleneagles may be more glamorous, Carnoustie more prestigious. It is Brora which is the most northerly golf memorial to James Braid in his native Scotland.

Brora is also the headquarters of the James Braid Golfing Society, and while its President, Peter Thomson, and fellow member Ronan Rafferty annually enthuse, the club golfer, the bedrock of the game, will derive equal pleasure and satisfaction from Brora's 6110 yards.

Given 194 acres of Scottish links land to work on, what in 1923 was entitled "Braid's Plan" is hardly altered. Here the visitor will enjoy the mixture of bent grass and beach sand, burn water and gorse in glorious yellow May bloom. There is even a railway which comes into play from the tenth tee.